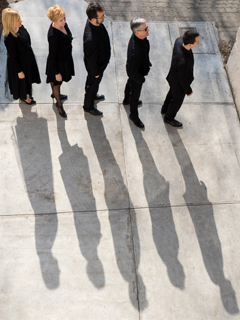 Novi Sad Wind Quintet was founded in 2010 in Novi Sad on the initiative of horn player Mirko Marić. The members are Ksenija Mijatović Korom (flute), Veronika Antunović Marić (oboe), Kristijan Boroš (clarinet), Goran Marinković (bassoon) and Mirko Marić (French horn). The wind quintet members are musicians whose field of activity is wide, ranging from chamber and orchestra music playing to teaching.
So far quintet has held noticeable concerts in the country and abroad, performing at Kolarac chamber music podium, at the opening of the International competition "Anton Eberst", at Vlado S. Milosevic's Days, NEO Festival, Festival "Convivium Musicum", BUNT Festival and other important events. Very significant is the series of concerts for children "Peter and the wolf" whose goal was education of preschool children and young elementary school children. The ensemble collaborated with notable foreign artists including Mario Stefano Pietrodarchi, Gianluca Marciano, Norbert Girlinger, Boštjan Lipovšek, Gordan Tudor, Aleksandra Vrebalov, Khaled Mouzanar  and many others. Far-reaching collaboration is achieved with domestic artist as well, including Igor Lazić, Sanja Lukovac, Marko Miletić, Aleksandar Đermanović, Agota Vitkai Kučera, Slobodanka Stević, Aleksandar Gligić, Dragan Vujić, Emina Elor and Uroš Mladenović.
Notable composer from Banja Luka, David Mastikosa, as well as acknowledged composer from Novi Sad, Ivana Vojnović, dedicated their compositions to this chamber ensemble.
In 2017, Novi Sad Wind Quintet published CD "Music of Serbian composers for woodwind quintet", supported by SOKOJ. On the CD were works of Petar Konjović, Dorotea Vejnović, Nataša Đuragić and Ivana Vojnović. In 2021, the second CD called "Wind Quintets – Vrebalov, Bruči, Kiraly, Vojnović" was released, which included works by Aleksandra Vrebalov, Ivana Vojnović, Erno Kiraly and Rudolf Bruči. Their third CD with the title "The charm of French music" was released in 2023. On this disc you can hear works from Darius Milhaud, Jacques Ibert and Paul Taffanel.
Novi Sad Wind Quintet is founder and residential ensemble of Festival of chamber music, which is traditionally held in Novi Sad.