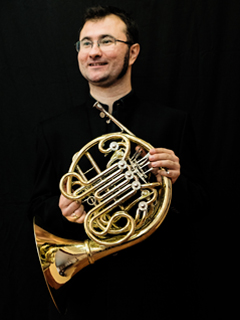 Mirko Marić was born in Sremska Mitrovica in 1983. He started his music education in his hometown in music school "Petar Krančević" in the class of Aleksandar Gošev (Macedonia). He finished music high school 'Isidor Bajić' in Novi Sad in the class of Jelena Jeremić. When he had enrolled Academy of Arts in Novi Sad he studied in the class of professor Ferenc Tarjani (Budapest, Hungary) and Professor Nenad Vasić. He finished his studies at Academy of Music in Ljubljana in class of Professor Boštjan Lipovšek. During his education, he received a great number of first, second and special awards on state and international competitions in Novi Sad and Belgrade.
In 2008 in Synagogue of Novi Sad he performed as a soloist accompanied by the Orchestra of Academy of Arts. On that occasion he performed Mozart's Concert number 3 in E flat Major for horn and orchestra.
Until now he attended seminars of recognized hornists from Europe and world such as: Stefan Dohr (Germany), Ferenc Tarjani (Hungary), Boštjan Lipovšek (Slovenia), Luis Garcia (Brasil), Andreas Casale (France), Paul George (Germany), Francis Orval (Belgium), Michael Hinterholzer (Austria/Germany).
The experience he now has as an orchestra player, he has gained on many positions of horn in orchestras: Philharmonic Orchestra of Subotica, Youth Symphonic Orchestra of Serbia, Ns Brass Orchestra, Academy Orchestra (Novi Sad, Ljubljana), Belgrade Philharmonic Orchestra, Montenegrin Symphonic Orchestra, Junge Philharmonie (Stuttgart ), Serbian National Theater Opera Orchestra (worked part-time on third horn position), Woodwind and Brass Orchestra of Academy of Music (Ljubljana), Vojvodina Symphony Orchestra (from 2004 until today), Youth Symphony Orchestra of South- Eastern Europe and Maribor International Orchestra. From the establishment of Philharmonic Orchestra of Banjaluka he has worked as a guest first hornist. Also, he is a member of Orchestra "Orfelin" from Novi Sad.
In 2010, as a member of horn quartet of Academy of Music, he won the gold plaque and also the first award on Slovenian state competition TEMSIG.
In February 2011 he was part of EUPHONY Symphony Orchestra on Central European tour conducted by maestro Zoltan Kocis (Hungary).
He performs regularly on Nomus (Novi Sad Music Festival) and Bemus (Belgrade Music Festival) festivals as chamber and orchestral musician.
He is the founder of Novi Sad Wind Quintet and horn octet HoRORn from Slovenia. From 2010 to 2015 he worked in music school "Isidor Bajić" in Novi Sad as a horn teacher and chamber music teacher. Since season 2013/2014 he has been working in Belgrade Philharmonic Orchestra as third horn. With the orchestra, apart from many other, he performed with maestro Zubin Mehta (2005, 2013, 2015) and was a guest on the first tour of Belgrade Philharmonic Orchestra in USA (Chicago, Cleveland, Washington and New York).
Currently, he is a chamber music PhD student at Faculty of Music in Belgrade in the class of Igor Lazić.