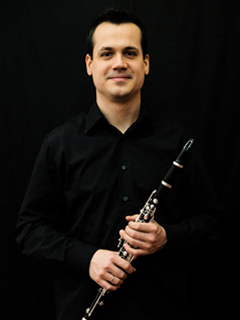 Kristijan Boroš was born in 1986 in Novi Sad. He finished elementary and high music school "Isidor Bajić" in the class of professor Đuro Pete. In 2005 he enrolled Academy of Arts in Novi Sad. In 2009 he finished bachelor studies and in 2010 master studies in the class of Nikola Srdić. He has worked as teaching associate at the Academy of Arts in Novi Sad from November 2011. In June 2013 he finished postgraduate studies in the class of professor Alois Brandhofer at the University Mozarteum in Salzburg (Austria).
During his education, he had accomplished noticeable results on competitions and music festivals from which Republic competition in 2003 and 2005 stands out, but also Competition of Woodwinds in Požarevac in 2004 and 2005 in which he won the title of the laureate. On First International Competition of Clarinetists and Flutists "Anton Eberst" in 2008 in Novi Sad, he won first prize. On International Competition of Young Musicians "Ohridski biseri" in 2011 he won second prize.
He attended master classes of eminent professors: J. Hlavač (Czech Republic) M. Arrignon (France), M. Bekavac (Slovenia), J. Kotar (Slovenia), Z. Szatmari (Hungary), B. Kovacs (Hungary) and also chamber music master classes of Norbert Girlinger (Austria) and Boštjan Lipovšek (Slovenia).
He received an award from University of Novi Sad for achieved success in the school year 2005/2006. Also from the University of Novi Sad he received an award for top results in art in the school year 2008/2009. He is the winner of scholarship for summer semester at the University of Ljubljana in the school year 2007/2008. He was the scholar of Fund for Young Talents in the school year 2009/2010.
Beside many soloist concerts held in the country and abroad, he performed with chamber ensembles and orchestras such as Novi Sad Wind Quintet, Choir of clarinets of Academy of Arts, Symphony Orchestra of Academy of Arts, Symphony Orchestra of Vojvodina, Camerata Academica, orchestra "Orfelin".